How to Care for Your Alpaca Socks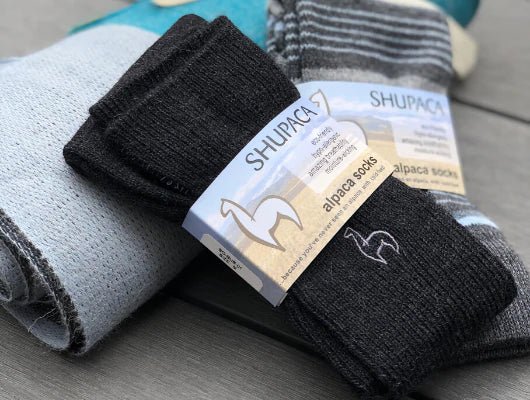 Alpaca wool socks are comfortable and long lasting making them a worthy investment for your feet! To get the most use out of your new alpaca socks, it is important to properly care for them. Don't worry, properly maintaining your alpaca socks is not hard to do as long as you keep in mind that there are two ways to wash them - hand washing and machine washing.
Hand Washing
Use cool water with a mild soap such as mild shampoo

Never use chlorine bleach

Never use a brush

Soak them in the soapy water for 2-3 minutes then rinse with cold water

Do not wring or twist the socks. Alpaca is very fragile when wet.

You can lay them flat on top of a towel to dry or place them in a pillowcase or a laundry bag and left to air dry. Keep them away from direct sunlight.
Machine Washing
Use a mild detergent

Machine wash in cold

Do not use the hand wash cycle. Use the wool cycle

Wash and dry after turning the socks inside out

Wash dark colors separately

You may place the socks inside a mesh laundry bag to reduce agitation

Lay flat to dry
(For stubborn stains, you may take your socks to a professional dry cleaner)
Storage
Make sure the socks are fully dry before storing them

Place them in closets or drawers where there are lots of air circulation

Moths are alpaca wool's greatest enemy. You may place cedar chips and sachets of dried lavender to repel them.
Alpaca socks are perfect for wearing year round and are made to wear in all types of weather. They keep your feet very warm in harsh cold weather and the 
breathable material also wicks moisture away to help regulate body temperature in hot climates. They are a worthy investment and once you find the perfect pair of alpaca socks you'll never want to take them off. We encourage you to follow these steps and enjoy your Shupaca alpaca socks!